Contacts
Corporate
e-Radio Inc.
161 Bay Street, TD Canada Trust Tower, 27th Floor
Toronto
, ON
M5J 2S1
Canada
Where are you browsing from?
Change location to
USA
Canada
Management Team

Jackson Wang
President & CEO
jwang@e-radioinc.com
Jackson Wang is the founder and CEO of e-Radio and has an extensive background with a career that spans the Canadian military where he was an Aerospace Engineering Officer, the private sector as a systems engineer with Litton Guidance and Control Systems where he worked on the U.S. Tomahawk Cruise Missile Program and in the public sector with the Ontario Ministry of Transport where he was a Senior Project Manager specializing in Public Private Partnerships.
He is the co-chairman of the US National Radio Systems Committee (NRSC) Digital Radio Broadcasting (DRB) subcommittee, and currently leads the Broadcast subcommittee of the Home to Grid (H2G) Domain Expert Working Group (DEWG) of the US Smart Grid Interoperability Panel (SGIP). He was also a founding committee chairman of Advanced Traveler Information Systems (ATIS) of the Society of Automotive Engineers (SAE) and past chair of International Organization for Standardization (ISO) TC/204 WG10.1 subcommittee on advanced traveler services integration.
Jackson is the principle author of numerous US and international patents in the field of broadcast based data-casting. He is a graduate of the Engineering Science Program at the University of Toronto and is a member of the Professional Engineers of Ontario and the Society of Automotive Engineers.
---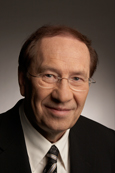 Duff Roman
Executive Vice President
droman@e-radioinc.com
As a radio broadcaster, Duff Roman worked in several key roles with CHUM Limited. In 1984, he was promoted to Station Manager and directed the repositioning of CHUM-FM as Canada's foremost Adult Rock radio station. In 1988, Duff was appointed Vice President Industry Affairs, CHUM Limited and in 1999, he assumed the added responsibilities of Vice President, Digital Radio Operations. In December 2007, Duff was appointed Head of the CHUM Radio Division, CTV Ltd. prior to joining e-Radio Inc. in 2009 in his present role as Chief Network Officer.
Duff is a past Chairman of the Canadian Association of Broadcasters (CAB). He is past President of Digital Radio Roll-Out Inc. (DRRI) and was Canada's representative on the WorldDAB (Digital Audio Broadcasting) Steering Committee. He was the CAB representative on the Department of Communications Task Force on the Introduction of Digital Radio where he chaired the Working Group that addressed the development of policy guidelines for the delivery of digital radio auxiliary data services.
In 1986, Duff received the Major Market Radio Executive of the Year Award at the Annual Industry Conference sponsored by The Record. The Ontario Association of Broadcasters (OAB) named him Broadcaster of The Year in March 1996. In October, 2001, he was inducted into the CAB Broadcast Hall of Fame and in March 2006, was one of the first broadcasters inducted into the Canadian Music Industry Hall of Fame. In October 2010, Duff received the OAB Lifetime Achievement Award.
---

Scott Cuthbertson
Financial Advisor
scuthbertson@e-radioinc.com
Prior to joining e-Radio in 2012, Scott had a successful career in finance spanning 23 years. In the early 1990's Scott worked in Investment Banking at TD where he structured, negotiated and acted as lead agent for large media deals involving companies such as Rogers Communications.
Subsequently, he joined TD Securities as a Stock Analyst for the media sector. This involved covering publicly traded companies for TD's institutional clients, closely monitoring their performance and making Buy, Sell and Hold recommendations on their equity.
Consistently ranked as an All Star Analyst (top 3), Scott closed out his career with a #1 ranking. Scott has a BSc Honours from Trent University and an MBA from the Schulich School of Business at York University.
---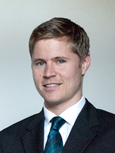 Dan Nephin
Director - Software and Hardware Development
dnephin@e-radioinc.com
Dan returned to Canada and e-Radio in 2007 to take on the development of a new suite of data-casting software and hardware products. He is currently responsible for the end-to-end e-Radio data-casting system architecture.
Regarding the smart grid, Dan is committed to standards development activities in the CEA and SGIP. On the automotive side, he has been an SAE member for nearly a decade. During two years abroad starting in 2005, Dan worked as a web and database developer overseas, gaining valuable skills in internet technologies applicable to scalable cloud-hosted services.
Dan joined e-Radio in 2001 as a junior engineer and has held increasingly greater levels of responsibility in the areas of software, firmware and hardware systems design since. Dan is a graduate of the University of Toronto Engineering Science Program and gained experience in university research on swept-frequency ultrasound applications at the University of Saskatchewan. He also worked in software development in the aerospace industry in Toronto before graduation.
---